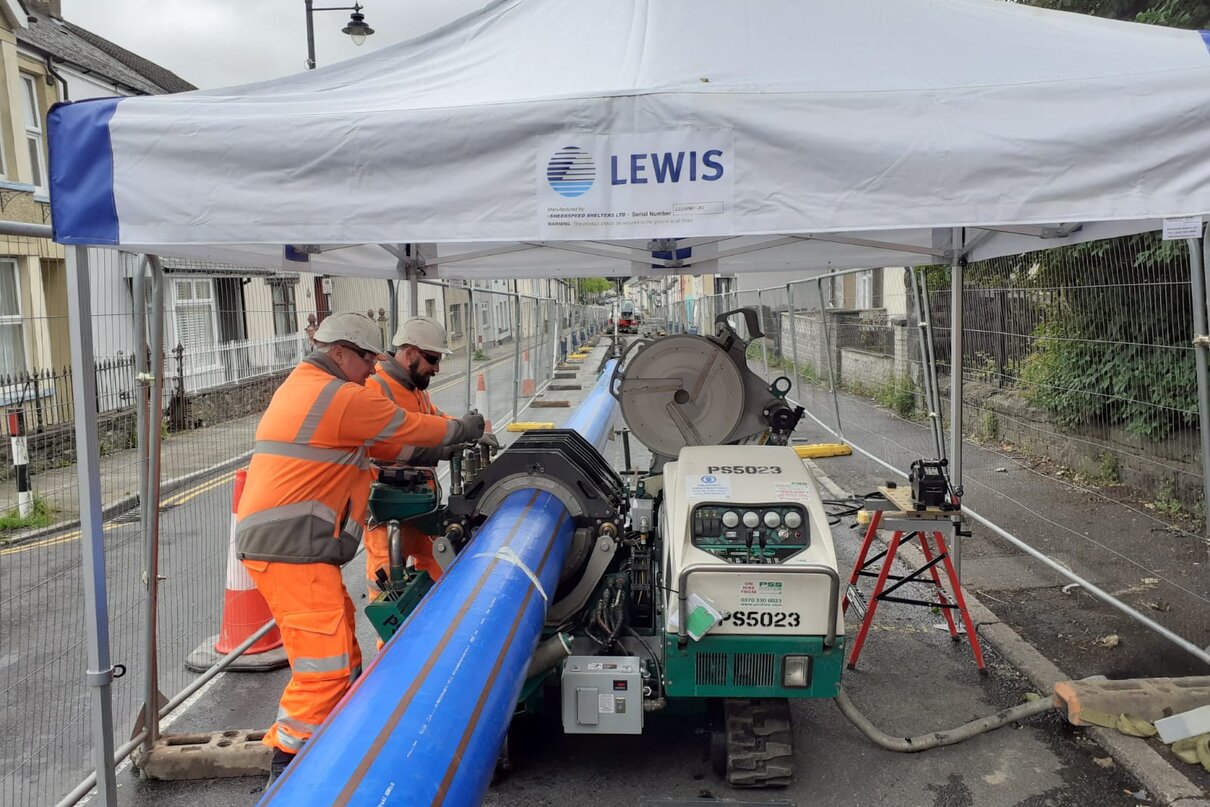 Product:
Protecta-Line
Solution:
Barrier pipe system
Project:
Rhymney Valley
Installer:
Welsh Water
The Challenge
A major Welsh Water infrastructure investment project that is upgrading water quality as well as reliability of service for some 37,000 South Wales homes is nearing completion, with Aliaxis' Protecta-Line barrier pipe installed on the project.
The Solution
The £10 million Rhymney Valley project for Welsh Water (Dwr Cymru) has been carried out by specialist contractor, Lewis Civil Engineering under Asset Maintenance Programme AMP7; underlining Welsh Water's commitment to reduce leakage and improve performance across its networks.
The Rhymney-Bargoed Water Quality Zone lies between Brecon and the Cardiff-Newport conurbation, where Protecta-Line barrier pipe has been supplied by Aliaxis in a range of sizes (up to 400mm diameter) to replace mainly existing ductile iron pipes. The 18-month long contract has seen Aliaxis produce around 75% of the barrier pipe system required in project specific batches, to guarantee just-in-time deliveries direct to the 15 km long route.
Aliaxis has also supplied large numbers of its electrofusion couplings; in addition to a number of specially designed ferrules to enable branch connections off the larger diameter trunk main, with the purpose of servicing some of the smaller local communities.
Curt Hughes, the Project Manager for Lewis Civil Engineering, commented: "At the project's inception we put together a schedule of our projected pipe consumption, along with a spreadsheet of all the different diameters and dates they would be required. This then allowed Aliaxis' Key Accounts Manager (Mike Williams) to plan the manufacturing programme and deliveries based on full loads and optimum manufacturing runs to meet the installation programme: needing anything between 400mm down to 25mm diameter pipe for the teams working along the valley, from the outlet at the reservoir, then connections to multiple sizes of settlement in the middle, and then at the far end of the system serving urban communities.
"There wasn't a product on the market for making large diameter service connections on larger 16 bar barrier pipe, but as the result of in-depth collaboration with Aliaxis, we have been able to adapt an existing ferrule to take 16 bar pressure in the thicker wall pipes. It is an unusual requirement but will definitely have further applications in the future, where the trunk main has to feed consumers."
Welsh Water's own Project Manager, John Rose, added: "Our teams have had no issues with the barrier pipe or the connections, and the project is progressing well. They've been using the sure-prep mechanical scraper to take off the plastic (PE) sheathing to make the fusion joints, while there has been some good response to challenges such as the need for an 'under pressure' clip for work at Abertwswg junction. Everything is going well, with 7km completed and no leaks suffered. We expect to bring forward the final completion to December 2022.
Rich Pedley, Infrastructure Segment Manager at Aliaxis UK concluded: "2022 marks 25 years of Protecta-Line, with the system having been used on countless projects and by utility companies all around the world to ensure a safe water supply. We're proud to have worked with Welsh Water on this latest project, supplying over £880k of Protecta-Line to support the construction of a safe and reliable piece of our UK utility infrastructure."
While the Rhymney-Bargoed renewal project featured the use of pipe diameters from 25-400mm, the Protecta-Line range actually extends up to 630mm. The construction of the high-performance barrier pipe uses a polyethylene core to carry the supply, surrounded by a layer of aluminium that is able to prevent any type of pollutant contaminating the water. A further PE outer layer then completes the build-up.
As a Kite-Marked system that offers protection against all known contaminants including corrosive conditions, but that is also lightweight and flexible to install and does not need cathodic protection, Protecta-Line can deliver significant savings across a scheme. Aliaxis manufactures the pipe in accordance with BS 8588 and the system is fully WRAS approved; being recognised by all the UK's privatised water companies and used by the majority of their framework contractors.
The unique design of Protecta-Line electrofusion fittings incorporates exposed heating coils to provide consistent heat transfer during fusion and to achieve maximum bonding between the materials. The fittings are lightweight, resistant to corrosion, have excellent chemical durability and exceptional fusibility.