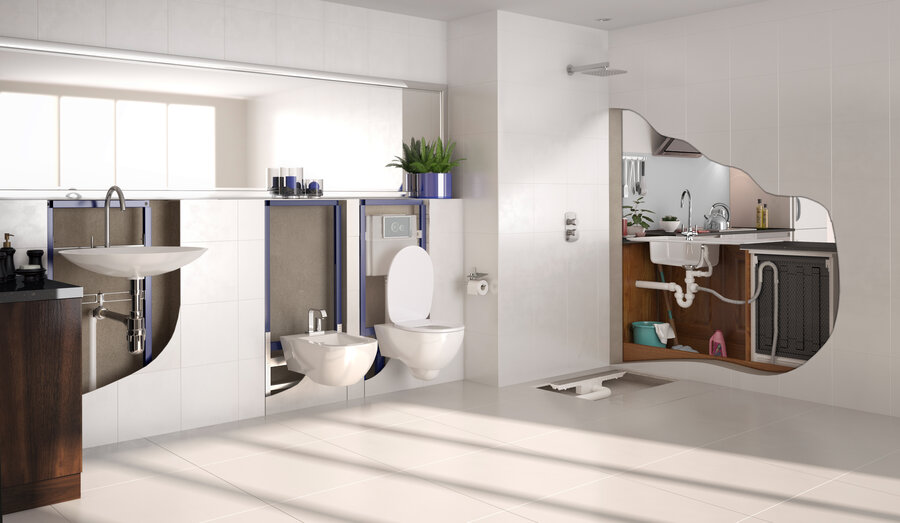 Sanitary and waste solutions you can trust
A comprehensive range of robust sanitary and waste solutions, designed to protect your system and deliver on your aesthetic needs.

Suitable for residential and commercial applications.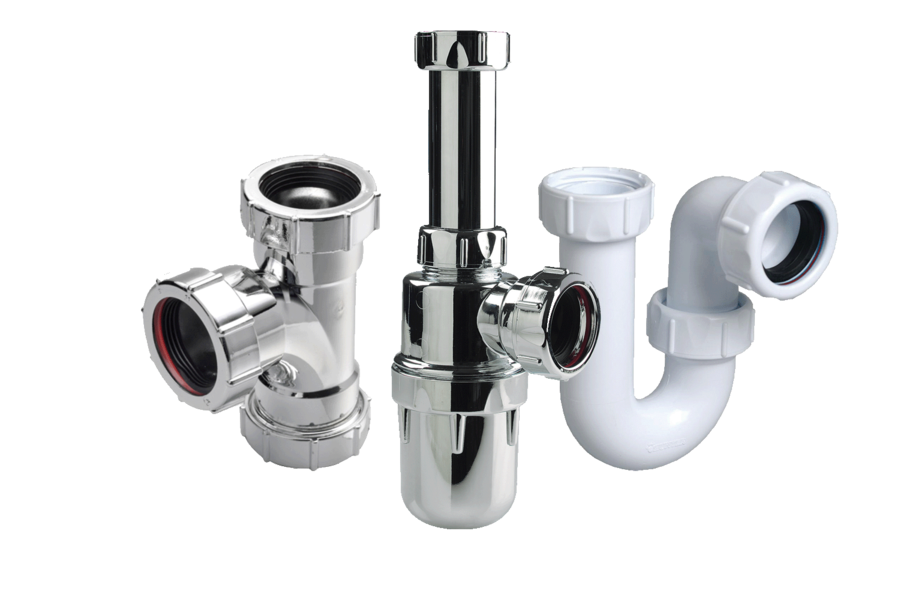 A wide range of traps, from standard traps for basins, baths and showers, to more complex utility traps and nozzles for appliance connections.
Compression waste components are available in white, which are ideal for hidden plumbing or a chrome covered finish perfect for exposed pipework.
A range of WC connectors for all configurations, allowing for imperfect pipes and spigots, while still ensuring a watertight joint past the point of installation.
Floor drainage solutions for commercial high flow rate applications or domestic shower drainage for tiled and vinyl flooring.
Frequently Asked Questions
BS EN 12056-2:2000 requires that traps discharge that to a soil stack have a 75mm seal however other water seal depths can be installed as follows:
50mm Water Seal - Can be fitted to baths, shower trays and basins with spray taps and no plugs.
38mm Water Seal - Can be used on the ground floor when connecting to flat bottomed appliances that discharge to a back inlet gully.
Siphonage occurs when negative pressure draws air into the waste pipe as the wastewater from a bath or basin discharges and pulls the water seal from the trap with it. There are three types of siphonage:
Self-siphonage - discharge from an appliance causing a loss of seal in its own trap
Induced siphonage - the seal loss is because of the discharge of another appliance connected to the same waste pipe
Compression siphonage - a falling body of water in a vertical pipe compresses the air below it and forces the water seal from lower appliances traps.
In some circumstances, where siphonage is occurring because of the pipework arrangement, but secondary ventilation is not possible, it is advisable to use a resealing trap. By drawing air in through the waste outlet before the water seal is dispersed, it counteracts siphonage before it can threaten the seals' integrity.
However, resealing traps can be noisy and do not completely eliminate water seal loss. To prevent this, the Multikwik anti-siphon unit allows air to enter the waste system as pressure drops while wastewater discharges.
Multikwik compression fittings should accept most plastic and copper waste pipes manufactured to suit the UK market.
Check that the pipe meets the minimum requirement of either 32mm or 38mm or 50mm internal bore. It may be helpful to chamfer the inside of the pipe to remove any burr.
Any necessary maintenance can be achieved through the flush plate access, avoiding the need for expensive, obtrusive access panels. With the sanitaryware suspended from the frame, cleaning is far easier, faster and more effective, a key requirement for Facility Managers.
Most modern wall-hung WC pans are compatible with the Multikwik WC frame fixing dimensions, plumbing connections and flush volumes. (Note: Always check before installation and if in doubt contact our technical advice team for advice on +44 (0) 330 111 4233).
You will need to measure the outer diameter of the spigot from your WC pan and also the inner diameter of your pipe, then take a look at the dimensions provided for the individual connector to find the best match. Details for all of our pan connectors can be found on our website or literature,
Got a question?
Get in touch with us.