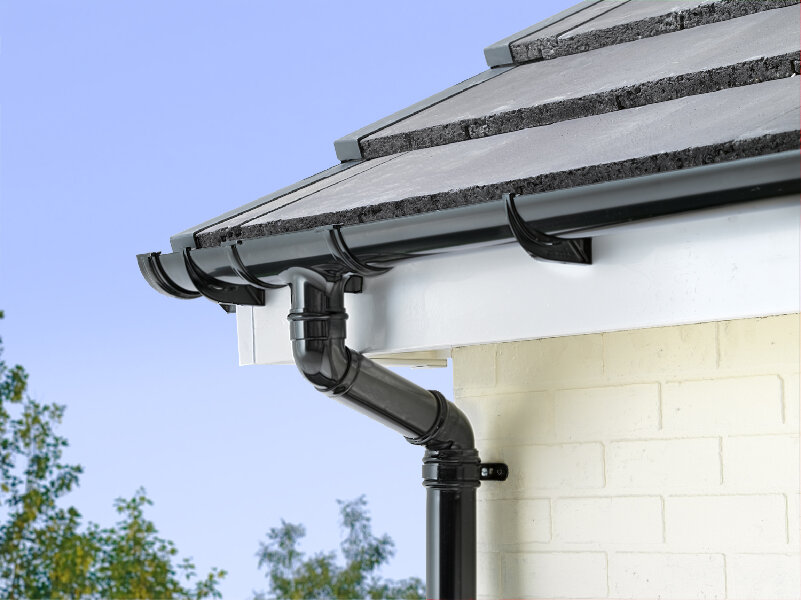 Our Marley rainwater range offers a variety of gutter profiles and downpipe options to cater for diverse applications from the average UK roof up to heavy industrial applications.
Most gutters feature advanced Life4 technology offering high gloss levels and long stable colour retention levels. Easyclip fittings which are easy to install or dismantle and an unique optional notching technique offering an effective way to prevent gutter from pulling out of fittings.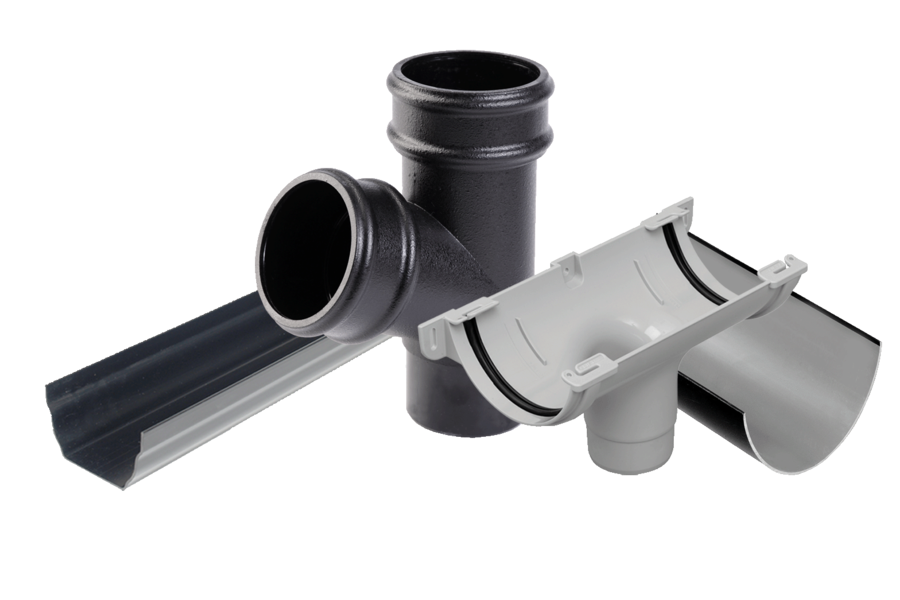 Life4 technology improves the overall aesthetic of the system. Can withstand exposure up to four times longer than standard PVCu and have high gloss levels that are consistent with the fittings
Minimum 15% recycled material
Easyclip moulded integrally within the body of the fittings making jointing easy – no separate clips or hinged parts necessary
Notched joint option – an effective way of allowing gutter to expand and contract without gutter and fitting pulling apart, maintaining a watertight joint
BS EN 607, BS EN 12200 and BS EN 1462 approvals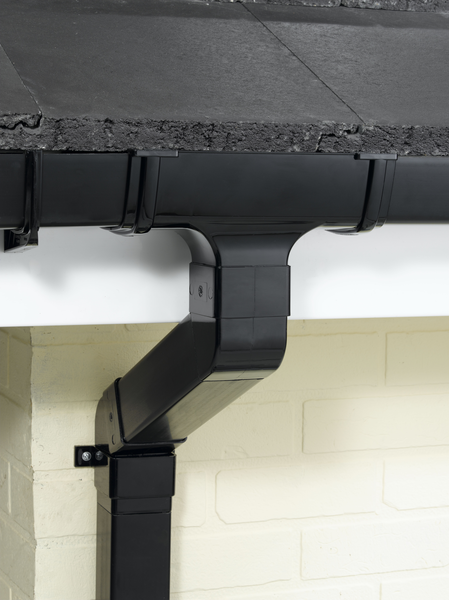 To receive a quick rainwater estimate, simply select the chosen gutter and downpipe profile, input the length of gutter required, the number of angles and outlets, and the height of the building, and the rainwater calculator will do the rest. The result is an estimate, and therefore we advise that you get in touch with our Technical Support team for a full rainwater calculation.
Discover our Marley rainwater ranges
Frequently Asked Questions
Rainwater gutters are manufactured to BS EN 607 and subjected to an accelerated exposure to ultraviolet light. Before and after exposure, the products are tested for colour change, and Life4 products have been assessed and can perform up to four times longer than standard PVCu.
In addition, a higher specification material used to form the outer capping layer offers more durable and high gloss finish.
Fit gutter to insertion mark on fitting and fix fitting to fascia board following installation instructions. Deepflow, Deepflow150, Clip-master and Flowline can also be fitted using the notch-jointing technique with a notch adaptor. Refer to Design & Installation Guide for step-by-step installation instructions.
'Notch' jointing is an optional jointing method for Deepflow, Deepflow150, Clip-master and Flowline systems. A notched joint cannot pull apart and will absorb expansion and contraction associated with variation in temperature; there is also no need to anchor fittings to the fascia. Ideal for anchoring the last joint of a gutter run which ends with a stopend.
Fascia bracket centres must not exceed 1m maximum centres for all systems except Stormflo which should not exceed 800mm. Fit an extra fascia bracket 150mm one side of any union, running outlet or stop end. Angles must have a facia bracket fitted both sides within 150mm.
Fit downpipes at a maximum of 1.8m centres, using pipe clips on the downpipe barrel. Remember to always support the socket on the end of the pipe using a socket pipe clip.
Refer to Design & Installation Guide for further information on installing rainwater systems in areas of excessive snow fall.
When fixing to cellular fascia boards the two outer-most fixing holes must be used, and 1¼" x 10g (32 x 5mm) pan or round head non-ferrous screws should be used for all systems except Stormflo which require 1½" x 12g (38 x 5.5mm) screws.
The use of countersunk screws is not recommended.
PVCu is a good corrosion resistant material and only requires an occasional wash with soapy water. Remove debris from the gutters and downpipes to ensure smooth flow and repair any defects immediately.
Got a question?
Get in touch with us.