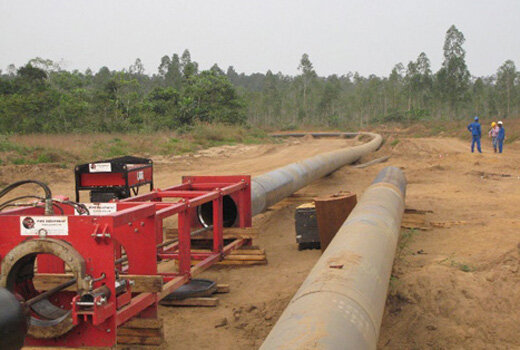 Product:
GPS PE Black
Solution:
Bespoke product, supply chain excellence
Project:
M'Boundi Oilfield
Installer:
ENI of Milan, Pipe Equipment Specialists Ltd
The Challenge
M'Boundi oilfield uses seawater to pump into its wells to increase oil production, but being located some 55km from the coast its operator ENI of Milan needed to construct a new 600mm diameter steel pipeline to bring seawater from the coast to the oil field. In order to maximise the lifespan of the steel pipeline in the corrosive environment it was decided to Swageline a 610mm diameter plastic pipe liner into the steel pipe to protect the inner pipe wall from the salt water, and the team turned to GPS PE Black for the solution.
The Solution
Aliaxis' expertise in bespoke manufacturing and logistics was critical to the project. Producing the liner pipe in 18m lengths meant fewer joints to be made on site and a more efficient installtion, while the the supervision of three cargo vessels following carefully planned port delivery logistics from three separate locations was carefully executed to avoid any disruptions to the critical project timescales. On time delivery was also assured by manufacturing the liner pipes on two dedicated extrusion lines simultaneously over a Christmas and New Year period, enabling the completion of the order including and independent inspection and certificaion prior to shipment to the Congo.
The installation of the plastic liner was carried out on site by specialist Swagelining contractor Pipe Equipment Specialists Ltd. Once safely delivered, the PE pipe liner was laid out along the pipeline route and then welded into sections above ground before being pulled through a reduction die to temporarily reduce their diameter. The swagelined sections were then pulled into the carbon steel strings under tension. Once the liner was in place, the tension was released, allowing the PE pipe liner to recover some of its original diameter and create a close-fitting and robust lining for the steel pipe.
At 55km long, the M'Boundi Project is believed to be the longest ever Swagelining project at the time, and included the longest single swagelined section which reached over 870m.