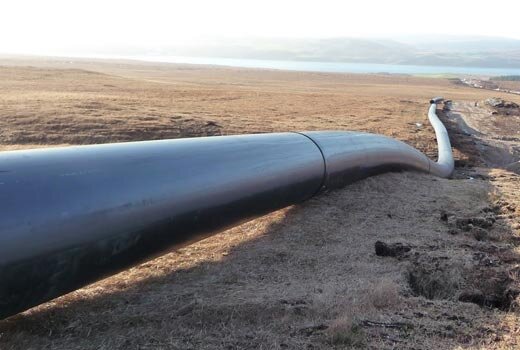 Product:
GPS PE Black
Solution:
Technical application expertise
Project:
Inver Hydro
Installer:
Inver Hydro LLP
The Challenge
Inver Estate is extremely remote and the project falls within the Jura National Scenic Area (NSA), so installation of the new hydroelectric plant and connection to the electricity mains had to respect the local ecology, landscape and environment. As a result, the installation had to be robust enough to last for at least 50 years with minimum maintenance.
The Solution
The undulating hills, wet climate and remote location of Scotland's Western Isles make them an ideal location for hydroelectric power and for the past 30 years the Inver estate on the west coast of the Isle of Jura has relied on a small hydro generator. The generator's age and the need to plan for future increases in energy demand led to a decision to replace the current plant, however, and the only financially viable solution was to connect the estate to the electricity mains six miles to the south and export any surplus generation.
Delivered by Inver Hydro LLP, the scheme involved abstraction of water from four catchments and three concrete weirs directing water into a local loch, Lochann Gleann Astaile, where a 280m dam raises the water level by 3m, providing control over the river discharge and 700,000m3 of storage. From the dam, the water travels down a new, underground 2,500m pipeline, which carries the pressurised water with around 130 metres of static head to a new powerhouse. The existing powerhouse has been moved closer to the new facility and remains operational to aid capacity during periods of low rainfall, with the water storage facility created by the dam ensuring that there is always water available to drive the turbines.
John Lithgow from Inver Hydro explains: "The pipeline had to be easy to install and, once in the ground, had to be long lasting and robust so that we hopefully never have to see it again!"
The hard wearing strength and flexibility of GPS PE Black fulfilled this requirement, whilst ensuring that installation was as fast and simple as possible, with minimal requirement for specialist plant. Aliaxis supplied 2300m of GPS PE Black 1200mm piping with a pressure rating that closely matched the actual head along the penstock to achieve the most cost-effective solution.
John Lithgow continues: "The Aliaxis technical team was able to provide invaluable support during installation to prevent unnecessary costs. Importantly, the remote nature of the project didn't faze them and they not only coped with a demanding delivery schedule to a remote site but also visited site to ensure storage and installation of the pipe was undertaken in line with best practice."