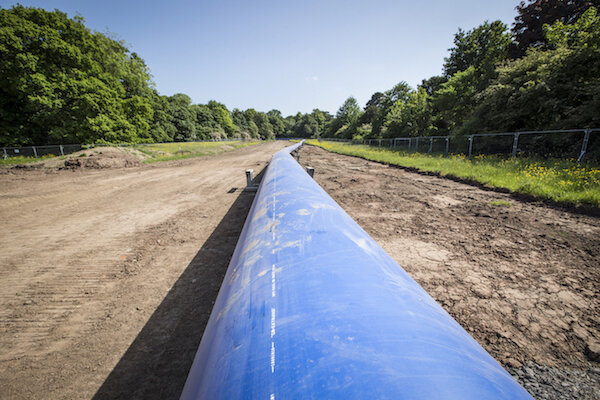 Product:
GPS PE Blue
Solution:
Ease of installation
Project:
Heronbridge
Installer:
United Utilities
The Challenge
United Utilities required a new size of pipe never previously produced in the UK to cater for a unique directional drilling project as part of a £7m mains duplication scheme, transferring water from the River Dee to Sutton Hall Water Treatment Works.
The Solution
To ensure the pipeline could cater for the future growth of the area, an 800mm pipe was required, but due to the directional drilling pressures a minimum 80mm wall thickness was needed, resulting in a required specification of PE100 800mm SDR 11 pipe. Aliaxis manufactured a GPS PE Blue 800mm SDR11 pipe, a completely new size pipe for the UK water industry's largest directional drilling project at the time, with approximately 450 metres of horizontal drilling being required to install the pipeline underneath a busy road.
Aliaxis prides itself on supplying bespoke solutions for customers and was able to manufacture, test and deliver 450m of 800mm SDR11 pipe within the 12 week time frame. Manufactured in 12m lengths for ease of storage and handling on a site within a busy public area, the pipe was then jointed using butt fusion above ground and pushed into the drilled trench to ensure a robust pipeline.
Commenting on the project, Dan Smith, project manager at United Utilities said: "This new pipeline is vital to ensure we can continue to meet the demand of a growing population. This was a very complex scheme, with such a large directional drilling element making it not only unique but a difficult task to find partners that could deliver the required solutions."