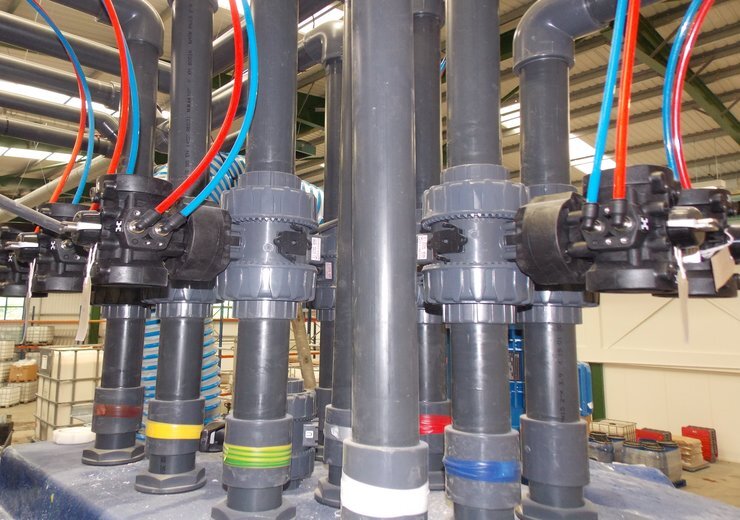 Product:
Durapipe PVC, actuated valves
Solution:
Chemical resistance, remote operation
Project:
Hi-Tech Coatings International Ltd Factory Re-Location
Installer:
Perfect Pipework Ltd
The Challenge
Durapipe PVC pipework and actuated valves have been installed at a Buckinghamshire-based coatings manufacturer, in a major factory re-location project.
The Solution
Hi-Tech Coatings International Ltd, which develops and manufactures high-performance coatings used by the printing and packaging industries, relocated its manufacturing operation as part of its continued growth and expansion across its markets. Perfect Pipework Ltd was tasked with installing a system to distribute raw materials for water based coatings from bulk storage to the mixing vessels through to the filling and packing of the finished goods.
The application required pipework with a high chemical resistance, so Durapipe PVC was the ideal choice. Particularly suited to industrial applications, it allows the safe transportation of acids, alkalis and chemical concentrates without fear of corrosion and environmental pollution. It is also lightweight and easy to install, saving both labour time and costs when compared with traditional metal pipework systems.
Durapipe PVC pipe was installed in a mixture of 2 and 3 inch sizes, along with our double-acting pneumatically actuated valves which were installed as part of the control system and ongoing automation of the production process, allowing users to control flow remotely and make the process more efficient.
Martin Skillen, Director at Hi-Tech Coatings, comments: "We chose Durapipe PVC due to its high chemical resistance properties, while offering a cost effective solution. We are very pleased with the results."