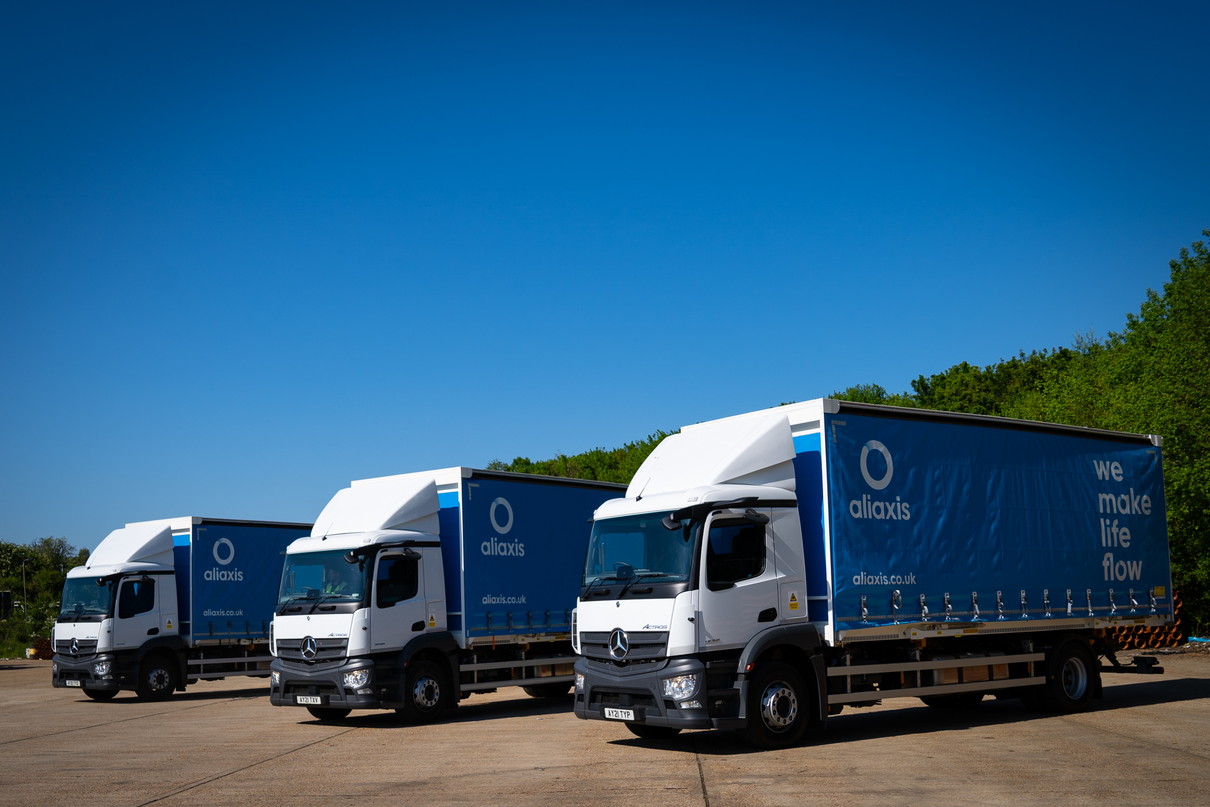 Marking our continued commitment and investment in customer service, safety and business-wide innovation, we have introduced a new dedicated fleet of specialist commercial transport vehicles, to meet our nationwide operational requirements.
The investment marks the beginning of a new relationship and contract between Aliaxis and XPO Logistics, a leading global provider of transport and logistics solutions.
Designed exclusively for Aliaxis, the new vehicles showcase an updated fleet design and have a range of innovative safety and technology features built in, all designed to improve road safety and sustainability standards.
The new vehicles meet the rigorous requirements of Fleet Operator Recognition Scheme (FORS) Silver accreditation and are equipped with the latest technology and safety systems, including mirror cams - which replace traditional wing mirrors with small cameras - and in cab screens, increasing visibility for the driver whilst reducing fuel consumption through improved aerodynamics. The vehicles are also designed to comply with the Direct Vision Standard – a new safety specification which measures how much a HGV driver can see directly through their cab windows, introduced as part of the Mayor of London's Vision Zero plan.
In addition to safety, the new vehicles mark our investment in improving sustainability within our organisation. As well as meeting the latest environmental standards, the new fleet enables us to offer shared transport opportunities to other businesses, helping to better utilise empty vehicles and contributing to a lower carbon footprint.
Speaking about the new fleet, Tom Hamlyn, Supply Chain Manager said: "We are really looking forward to starting our new working relationship with XPO Logistics, providing us with the very best in fleet performance and enabling us to deliver our range of solutions to customers all over the country.
"Thanks to the latest technology, our new vehicles will help us to improve the safety of road users, the general public and our own customers and drivers, as well as forming part of our ongoing commitment to reducing our environmental impact. With XPO's specialist fleet management processes and solutions, we are confident that our customers will feel the benefit of this investment, enabling us to provide a reliable, professional and improved level of service."
Dan Myers, Managing Director at XPO UK & Ireland said "This new partnership reflects our shared commitment to safety and sustainability. We're proud to support Aliaxis and the goal of reducing their environmental impact, thanks to our expertise in designing and implementing efficient transport networks."
As a fluid management solutions provider, we deliver a range of high-quality products and systems to applications across the construction, infrastructure and industrial sectors. To find our more, visit our product or application pages.