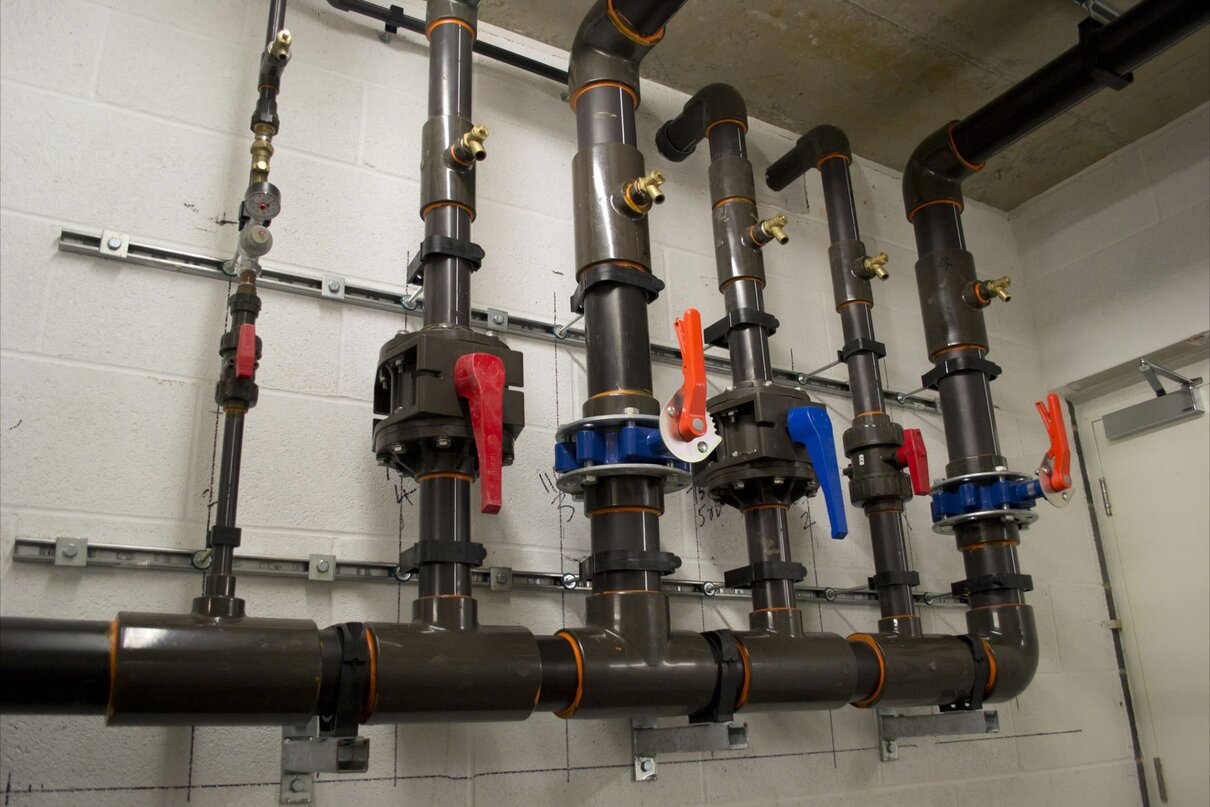 For many years, metal pipework systems have been seen as the go-to solution for hot and cold-water supply system installations. However, while metal pipework does have its advantages, this doesn't mean it's always the right choice. Shane Mooney, Product Manager at Aliaxis UK, explores the benefits of plastic hot and cold-water supply systems, helping contractors and installers to make more informed choices.
When it comes to ensuring the comfort and safety of a building's residents, whether in the residential, commercial, healthcare or education sector, a key factor is ensuring that they have access to the right temperature and pressure of water throughout. While metal may have been the plumbing industry's go-to choice for hot and cold water installations for many years, there may be an alternative…
A top installation
When it comes to choosing a hot and cold water supply system, an important factor to consider is its installation. With this stage of the construction sequence being one where contractors can either make or break time and cost savings, a product that offers a faster and more efficient installation is key.
Here, plastic hot and cold pipework systems can come out on top. Part of the speedy installation comes from the fact that pipes can be jointed using simple and quick solvent weld processes, meaning fast and efficient jointing and less need for specialist training. Since no hot work processes are required, installers can realise a considerable improvement to safety on site, reducing the risk of fire and helping to keep people and buildings safe.
The lightweight nature of plastic pipework systems in comparison to their metallic counterparts can further contribute to the safety of installation teams, making pipes and fittings easier to manipulate and reducing the risk of manual handling injuries.
A long life
Of course, as well as the installation, it's also important to consider what happens after construction on site has finished and the building is occupied. Ensuring a product is specified and installed that offers durability and a long lifespan is essential, both for a satisfied end-client and to also to protect against call backs further down the line.
When comparing the efficiency of plastic hot and cold supply systems with their metal equivalent, plastic systems can offer increased levels of durability. The primary reason for this is of course; the fact that plastic is protected from the corrosion risks that metal materials can be prone to.
As well as prolonging the overall system's lifespan, installing a corrosion-resistant plastic pipework can reduce the likelihood of replacement parts being needed. It can also help to protect against corrosion damage caused to buildings or their services.
Health & Safety
Corrosion can not only cause damage on a structural level, it can also present public health risks too, with the possibility of particles of rust or metal contaminating the water supply, making it unsafe for building occupants to drink.
What's more, opting for an engineered plastic pipe system with a smooth bore (the internal pipe wall) means less opportunity for bacteria to find a safe place to hide, reducing the chance of harmful quantities of bacteria being released into the water supply.
Sustainability
The benefits of a smooth bore don't end there either, contributing to an efficient flow of water and low frictional losses throughout the system. In turn, this can all help to maintain optimum pump efficiency and reduce the operational carbon footprint of the building – key given the net zero 2050 deadline.
This theme of sustainability is a big topic of conversation within the wider construction industry, with clients increasingly pushing the green agenda within their developments and projects. All too often, plastic can have a reputation of being at odds with this more sustainably conscious future. However, it's important not to confuse hard-wearing plastic building materials with single-use plastics, such as bottles, carrier bags or packaging. Plastic hot and cold systems can have a very long lifespan – far removed from the throw-away plastic perception.
The HTA system for distributing hot and cold water and the Superflo ABS system for cold and chilled water, supplied by Aliaxis UK, are both excellent alternatives to metallic options. Both systems are WRAS approved and supplied with a comprehensive range of pipes, fittings and valves.
As well as the physical products themselves, contractors and installers can also benefit from Aliaxis UK's technical support offering, from CAD modelling and design support to the pre-fabrication service.
For more information, click here.