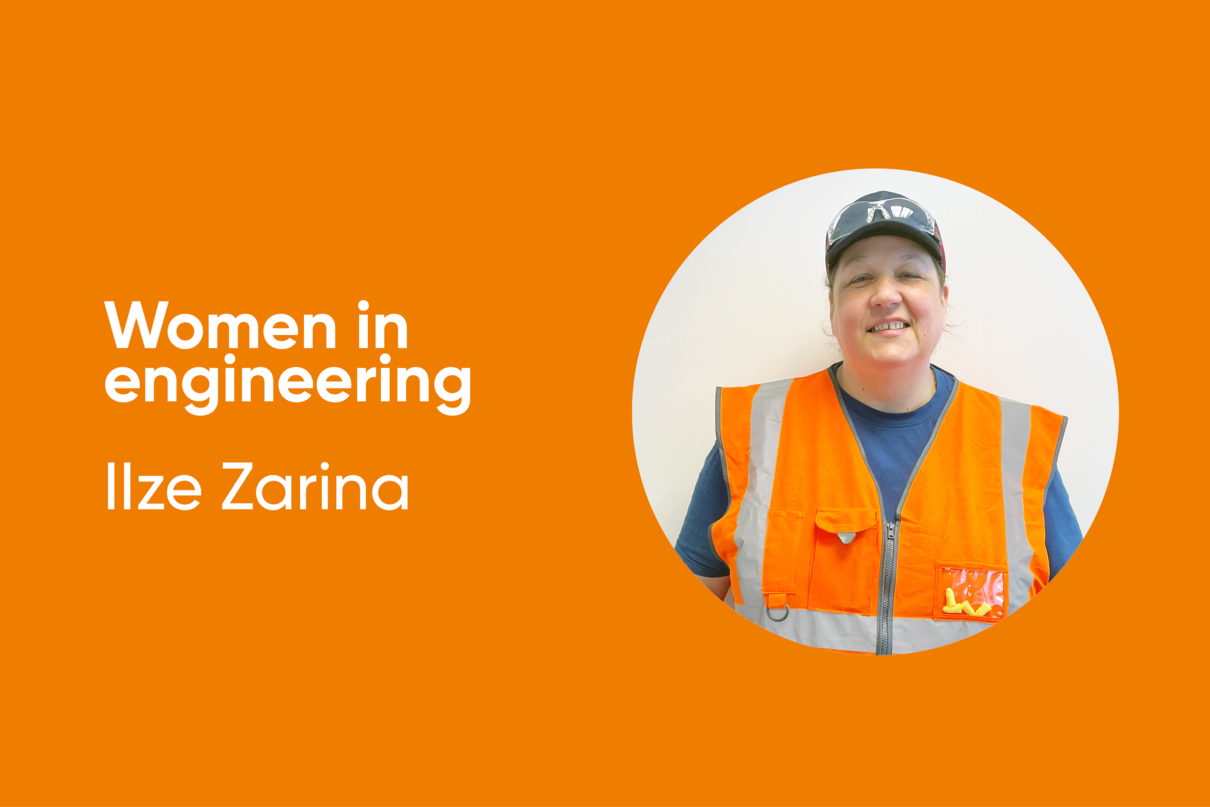 For our Women in engineering series, we recently caught up with Ilze Zarina, one of our Extrusion Coil Operators, to find out more about her experience within engineering and manufacturing.
What does a typical day at work look like for you?
It really does vary from day to day – every day is different!
Generally speaking, we come in early to be briefed and find out which manufacturing line we need to work on; then we have a few minutes to get our tools together, plan the day and complete any administrative tasks before we get to work.
What is the most exciting part of your job?
You certainly don't need to waste money on a fitness membership! There's a lot of physical work involved, which I find exciting – it helps keep me fit and healthy.

What did you want to do when you were at school?
Oh, that was a long time ago! I remember wanting to be a doctor. I even began studying for my medical degree, but then discovered that it wasn't the right path for me. I wanted to work, instead.
How or why did you choose manufacturing as a career path?
I think it's because I found work opportunities in manufacturing more accessible. I did originally go to work in a warehouse at one stage, but it wasn't for me.
What inspires you about manufacturing?
I like to learn something new every day, develop my skills and apply my existing knowledge.
Manufacturing is such a unique job and industry to work in - you learn so much, things that can also help improve and enhance your wider life skills too. There is always continuous development too; it's what makes it so interesting.
What are your hopes for the future of manufacturing?
For me, career development is so important. Being able to continuously learn and grow should be a priority, and there's so many opportunities to do this in manufacturing. I hope more people take advantage of these opportunities.
What are some of the main challenges for women working in manufacturing today?
It's definitely not an easy job, especially in a role on the manufacturing shop floor. It can come with high expectations and long shifts. But that's not to say that a woman can't do it – it just depends on the individual person!
What are the biggest misconceptions that women have about working in manufacturing?
That you'll be held back because it's a "male orientated" industry. But that's not the case.
Initially, I was one of the first women on the shop floor on many of my shifts, but that wasn't necessarily a bad thing. I developed and learned new skills like anyone else would – male or female.
In my experience, some companies have more women than others. Overall though, I feel that women are often discouraged from joining the industry because it can be a heavy, physical job and one with long hours.
What would you say to girls in high school or college who may be considering engineering / manufacturing as a study option or career choice?
I'd say to make sure that you have a good support system. And, even if you don't, make your own way!
If you want to do it, then you should – don't let anyone put you off or make you think otherwise. Think it through carefully and make sure to do your research, but if you find yourself thinking about it often then go for it!
You have to be mentally strong and committed to the job, but it's perfect for those looking for a new challenge and it offers plenty of room for growth.
What advice would you give to a woman thinking about entering the manufacturing field for the first time?
You can do it! Just make sure you do your research. Research the company and the role, look at the hours and the expectations. Google knows everything (!) and YouTube has some great videos about manufacturing roles and what to expect. Ask the company questions too, even before you apply – find out as much as you can, so you can then make the right choice for you. And if it still sounds like a good fit or an exciting new challenge, then go for it!
Why did you choose Aliaxis?
The number one thing that struck me about the company was its commitment to health and safety – that's really important to me.
I also thrive off new challenges, and Aliaxis could give me that. There's lots of opportunities to learn, to grow and to problem-solve, and I have a really supportive team that helps me to do that. Aliaxis really looks after its employees, from accommodating their individual needs to investing in their future progression.

If you'd like to find out more about our current career opportunities visit our careers page.